130BCD Road Bike E-bike Crankset 165/170/175MM Crank Arm Set 52T ChainWheel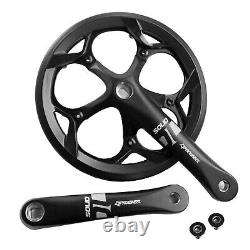 130MM BCD 52T Bike Crankset, 165MM/170MM/172.5MM/175MM Crank Arm Set, ChainWheel and Replacement Chain Guard, Compatible with City Bike, Folding Bike, Road Bike, MTB, Electric Bicycle. CHAINRING MATERIAL: ALLOY or STEEL. CHAINRING FINISH: BLACK SAND ANO.
CRANK LENGTH: 165MM / 170MM / 172.5MM / 175MM. Q-FACTOR / I-FACTOR: 154 / 126MM. Due to the problem of taking pictures, the chainring may look slightly different in colour, please refer to the actual object received.