1x10 Speed Bike Derailleurs M4120 Shifter with Crank VG X10 Chain Flywheel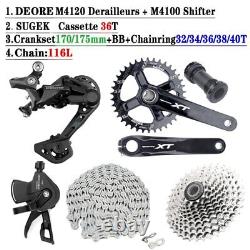 DEORE - RAPIDFIRE PLUS - Right Shift Lever - Clamp Band - 10-speed -Quicker lever access and light operation Shifts max. 3 gears at a time (Main lever) OPTICAL GEAR DISPLAY for easy visible gear position. Stable drivetrain on the trail -Low-profile design avoids damage from rocks Chain stabilizer reduces chain drop, slap and noise Silent drivetrain in all gear positions Decreased rear derailleur and chain tension in low gear Max.
Low sprocket 42T (2x11/10-speed), 46T (1x10-speed). VG 10speed Chain Color:Silver Length:116Links Weight: 264g.
Brand: RACEWORK Model: XT Product name:Hollow integrated crank Colour: Shiny black Material: Aluminum Alloy 6061-T6 Number of teeth: 9-11 speed compatible Suitable for: mountain bike Crank length:170/175MM Number of teeth: 32/34/36/38/40T Weight:About 653g(Only crank) Process: One-piece forging, anode sandblasting. Brand: SUGEK Color: Silver Number of Speeds: 10 Speed Largest Sprocket: 50T Smallest Sprocket: 11T Material: Aluminum alloy Compatible Bike Type: Mountain Bike/MTB 11-36T: 11-13-15-17-19-21-24-28-32-36T 11-40T: 11-13-15-18-21-24-28-32-36-40T 11-42T: 11-13-15-18-21-24-28-32-36-42T 11-46T: 11-13-16-20-24-28-32-36-40-46T 11-50T: 11-13-16-20-24-28-32-36-42-50T.