Mountain Bike Crankset GXP To 104BCD Crank Arm 170/175mm BB 32-38T Chainwheel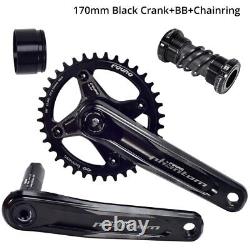 MTB Crankset GXP to 104BCD Crank Arm 170mm 175mm with 68-73/83mm BB MTB Road Bike for Shimano, SRAM. Full CNC cutting integrated molding, extremely demanding exquisite craftsmanship. Crank and Chainring made of high strength aluminum alloy, light weight, stylish, flashy styling, high axial strength and compatibility. GXP Crank with chainring adapter can converted to 104BCD Crankset. Ergonomic structure, Super lightweight and incredibly strong. Best choice for riders who want more control on their bicycles. Compatible with most mountain bikes and dirt bicycles. Including not confined to Shimano, SRAM. Model: GXP to 104BCD Crankset.
Compatible: SHIMANO, SRAM, mensah, LTWOO, microshift. Q-factor: 68-73mm: 168mm, 83mm: 168+15=183mm. Support frame five links: 68/73mm thread type; 89.5/92mm press in type.
Support the total width of the middle axis: 95-98mm.