NOS Shimano 105 SC Double Crankarm Set (Model FC-1055.175 mm). Shopwear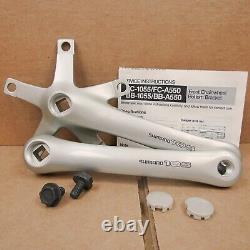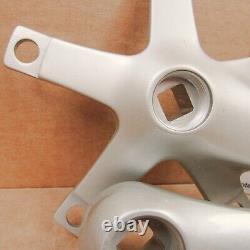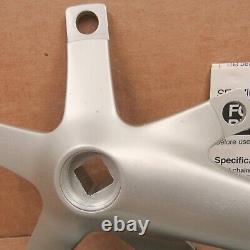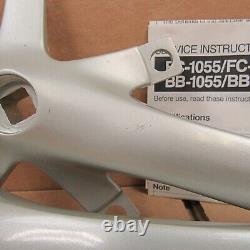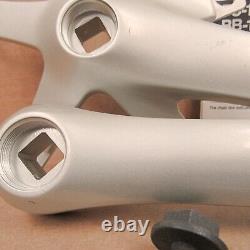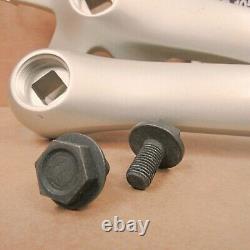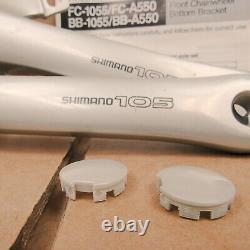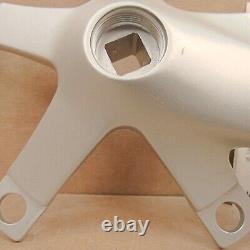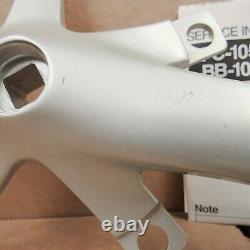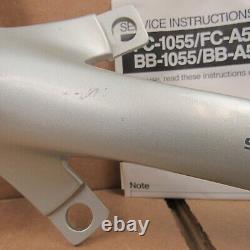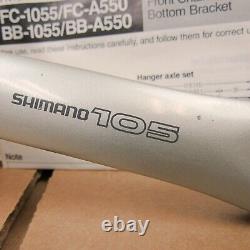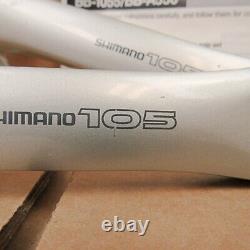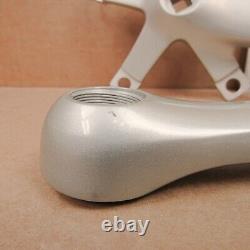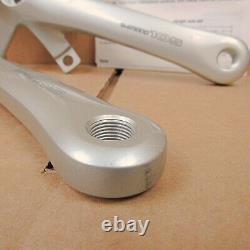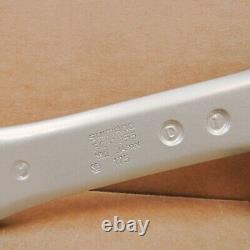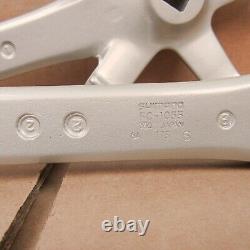 New-Old-Stock (NOS) Shimano 105 SC Double Crankarm Set (Model FC-1055...175 mm)... Shopwear and Rare Longer Size Thank you for your interest in this item and please visit our store for other offerings. We're nearing the end of our stocks in these crankarms in the longest (175 mm) length. The remaining crankarm sets we have left in stock all show some shopwear (scuffs/scratches in the enamel finish).
Please also keep in mind if you can live with a shorter length (170 mm) in this model, then you may want to consider some of our other listings for these crankarms in the shorter length. I say this, because we were able to source many more of them in the shorter length and at a slightly lower price (relative to these crankarms in the 175 mm length). This offering is for a set of new-old-stock Shimano 105 SC crankarms (Model FC-1055) for a double chainring set. The crankarms are made from a forged alloy (for added strength and durability), so they should hold up well under most conditions.
The date code stamped on the backside of each crankarm indicates an early 90's model, which makes this a fairly unique item in new-old-stock condition. Shimano's 105 drivetrain during this era was index (or as Shimano used to call it, "SIS") shifting capable and was marketed primarily as a 7-speed groupset although this crankarm set should perform fine with other drivetrains, as long as the specs. Noted below are adhered to. We also believe it was during this period (1990 to be exact) that Shimano redesigned the 105 drivetrain to incorporate their Hyperglide (shift-ramp) technology.
The crankarm set measures 175 mm in length, weighs 550 grams (per our digital postal scale) and has a bolt-circle diameter ("BCD") of 130 mm. Other specifications indicate the crankarm set is designed to accept a JIS spec'd square-tapered bottom bracket.
Additionally, if matched with an English threaded frame, then this crankarm set requires a bottom bracket with a 68 mm shell and a 113 mm spindle. Although, if matched with the less common Italian threaded frame, then a 70 mm shell and a 115 mm spindle will be needed to ensure optimal chainline for functional index shifting. Catalog research further indicates if a newer cartridge bottom bracket is matched with these crankarms, then a 115 mm spindle length is recommended regardless of the bottom bracket shell specs. With respect to condition, this crankarm set is new and unused, but does show some shopwear (scuffs and scratches). The gray enamel finish still shines as new i.
You may visit our store by clicking on this "Store Home Page". Link and please note the product categories on the left side of our "Store Home Page". We have also moved our "Terms and Conditions". You may navigate to this page by clicking on the link on the left side of our "Store Home Page". Unfortunately, this service is more expensive, especially for smaller/lighter packages, relative to the First Class International service.